Welcome to our Wolverhampton Chess club website. You can find out more about our club here and those who are already chess club members will also find this website useful.
Wolverhampton Chess Club provide opportunities to play chess socially, and or competitively. The club runs teams in the Birmingham, Cannock and Wolverhampton leagues. Club Secretary as of the 2022 AGM is Phil Bull, and Rajeev Raghavan is the chess club's new chair. Please don't hesitate to contact us via our contacts page or visit the club for further information or chat.
Please note venue change details and the chess club now meets on Wednesdays:
When and where does the club meet?
Club night: Wednesday
Where? The Wolverhampton West End Working Men's Club, Merridale Street West, Wolverhampton, West Midlands,WV3 ORW (From Wednesday 22nd June 2022 onwards).
Fancy joining?
Well, whatever your chess level visit us at the Wolverhampton West End Working Men's Club, Merridale Street West, Wolverhampton, West Midlands,WV3 0RW from Wednesday 22nd June, from 7.15pm onwards, or any Wednesday, thereafter.
And, ask a chess club member about joining for only £20 (if paid before the end of September, £10 for juniors. Price includes Wolverhampton West End Club membership) £25, thereafter, or possibly less depending on when you join throughout the year!
How do I pay my membership fee?
Paypal, cash on a chess club night to John Lee, Phil Bull or Rajeev Raghavan, or bank transfer payment options are available.
But, you can attend a few times for free. So, why not visit, play a game or two, then decide?
Can you be the champion? (New page launch!) Wolverhampton Chess Club Championship open to all members, thank you, Chris Lewis. Click here
Online play: Our Lichess online page is here, too, with links to play.
An update:
Wolverhampton Chess Club reopened
Thursday 9th September 2021.
The Chess Club opened for the first time yesterday 9th September 2021 after a shutdown of 18 months.

It was well attended and enjoyed by nine members or prospective members, who played a variety of games and opponents. The West End Club manager explained that there had been a misunderstanding the previous week when we waited in vain for the club to open its doors. There should be no problems in the future, and since the Club is little used on Thursdays there is plenty of room for us to meet safely.

The Birmingham League has now published its fixture list; we have one team of six in Division One.
Many thanks, Geoff Rosser.
And, an announcement, as of 30th July 2021:
Dear chess club members and prospective members,
Our venue, the Wolverhampton West End Working Men's Club (WWEWMC) is now open every evening and weekends. So it's possible to resume chess play, and the venue now has new anti-bacterial LED lighting, for your further safety!
Our rooms will be available as before on Thursdays, but may close on Mondays and Wednesdays. We expect to restart the chess club in September, as we have an online tournament throughout August on Thursday evenings.
There is no reason our members shouldn't play games at the WWEWMC on any evening if they wish (if pre-arranged).
Your chess club membership subscription includes WWEWMC membership and will next be due in January 2022, having been suspended for a year.
Don't forget that only paid up chess club members who are also ECF members are eligible to play in the club teams. As decided at the AGM, your ECF membership is not included in your chess club membership and is due for renewal by you in August. For details on how to pay your chess club subscription, (or ECF membership) please ask/email one of the committee. Also, it would be very helpful to team captains and league organisers if both these were obtained during August.
I trust you are looking forward to the forthcoming over-the-board chess season and will be able to cope with 3-dimensional chess again.
Kind regards,
Geoff Rosser (Chairman)
So, yes, chess is set to resume, but tributes are still here with everlasting memories of those who have sadly passed away, and will be dearly missed.
Wolverhampton Chess Club Championship 2019/20:
Well done to Frank Wood on a very well played, great game and progressing to the next round after victory against the reigning champion John Mangwengwende.
Wolverhampton Chess Club Championship 2018/19:
The Final: Congratulations to John Mangwengwende Wolverhampton Chess Club Champion 2018/19 after beating Chris Cox in the Final. Well done to Chris Cox on becoming a finalist as that's a great achievement too.
.
News of Success
BDSL Summer League
Well done all, 4th from top in the Open section behind South Birmingham, West Bromwich, Mutual Circle. BDSL 2019 Fixture link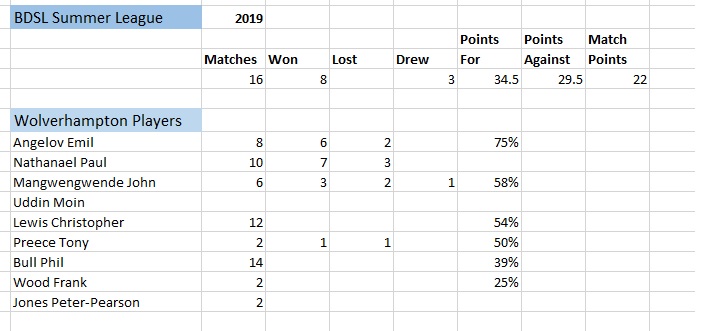 Wolverhampton League (WDCL) Trophies: Humphrey's Cup (U130 each player)
Cannock League (CDCL): Chase Trophy. U551 for 4 player team

2019/20: Well Wolverhampton win on board count versus Stourbridge in round 1 of the WDCL Humphrey's Cup and beat Mercia 3.5 - 0.5 Wed 26/02/2020 Geoff Rosser, Gordon Sands and Eddie Badger won their games on boards 1, 3 and 4 respectively and Chris Cox drew on board 2. Well done all and on progressing to final which will be against Rushall.


2018/19: Wolverhampton retain the WDCL Humphrey's Cup after beating Stourbridge, 1 - 3 in the Final. As in the semi final against Rushall, G Rosser and C Cox won their games. G Sands also won. Well done all, and the entire squad that played at every stage in the competition.





Final:

Wolverhampton versus Stourbridge 14th May at Mercia Chess Club.
Well done all, Wolverhampton win the Chase Trophy after beating Rugeley 3 - 1 in the final 16th May 2019.